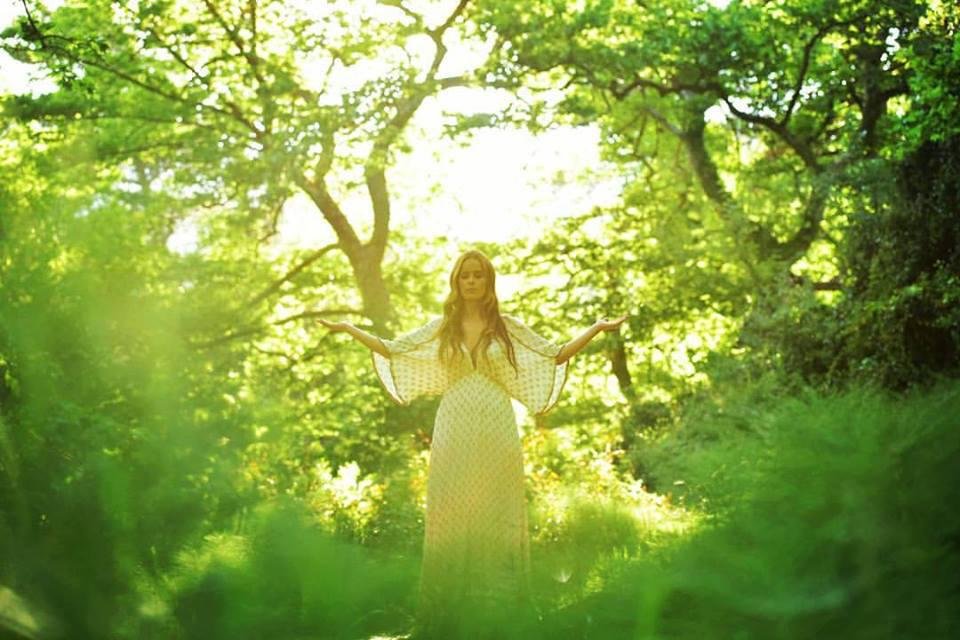 Welcome to a 3-week Authentic Yoga Teacher Training!
Yoga is expanding all over the world bringing inner peace and many health benefits to practitioners.
However, yoga has the potential to do much more. In the west, we often see the original yoga, commercialized and downgraded to a bodily workout or something that people do just with their bodies.
Yoga has always meant to be more about the mind and about using the body to go into postures that will help the detoxification and relaxation process. After all, the asanas are only one of the part of the eightfold path of Patanjali.
On top of this, the modern human being is restricted from experiencing higher states of consciousness or yoga (state of union) from limiting beliefs and energy blockages.
This new yoga teacher training will offer participants a first-hand experience of what is possible through yoga by removing energy blockages that the participants might be experiencing, by cleansing the body and the mind and by going deep in the practises of the original yoga.
Yoga Program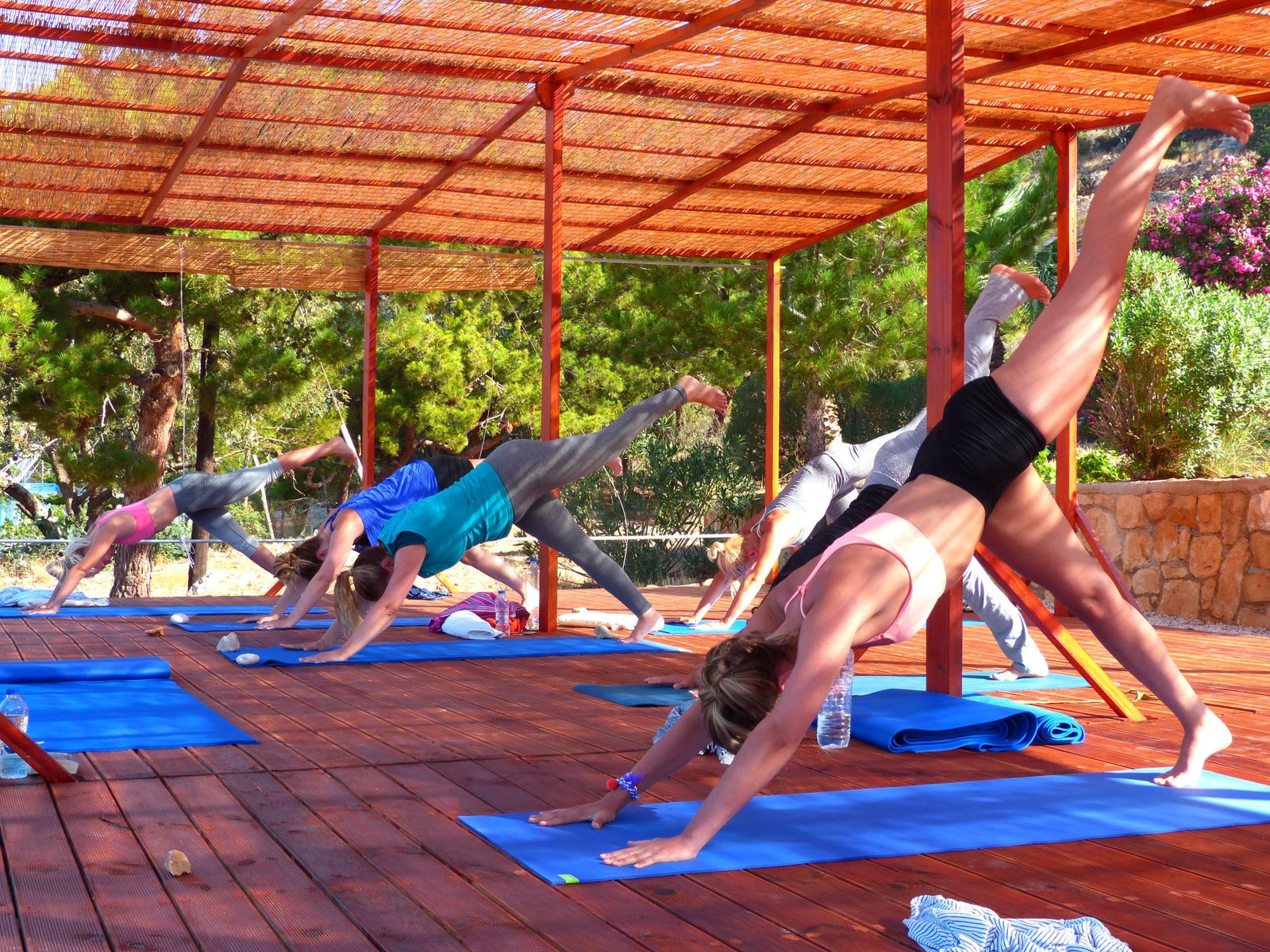 This program intends to give birth to a new breed of yoga teachers. Participants that will emerge out of this program will have experienced what yoga is really about, will have achieved a significant shift in consciousness and will be in a position to inspire students and practitioners from different parts of the world to join into this consciousness revolution and have positive and meaningful impact on them while experiencing abundance at all levels.
The trainees will receive a certification 200Hr Yoga Alliance accepted throughout the world and will be capable to lead a class of students in all the different types of asanas, pranayama, meditations, mundras, bhandas and sound healing. However, this program will also be ideal for people that do not seek to practice yoga as a profession but who would like to go deeper in their own practice and to experience a shift in consciousness that will empower them for all the different aspects of their lives.
Further to successful completion of the program and further practice, candidates will also have the possibility to receive additional certifications to enable them to take part and lead training of new teachers in this conscious form of yoga.
The program will last for three weeks of intense work after which their first certification will be granted. However, the attendee will continue to be supported by the teachers for 6 months when their final certification will be offered. It is important for the student to feel supported in his/her first steps and in the application of the tools that were offered to them. Over this period of 6 months, participants will be able to ask questions and will be supported with extra materials, coaching and mentoring.
The practitioner will be exposed to:
All 4 main types of yoga: Karma, Bhakti, Jnana, Raja
The 8 limbs of yoga: Yamas, Niyamas, Asanas, Pranayama, Pratyahara, Dharana, Dhyana, Samadhi
Various sub-yogas: Hatha, Yin, Kirtan, Vinyasa, Restorative, Ashtanga
Different aspects of yoga such as: Yoga Mundras, Chanting, Bhandas, Human Anatomy, the scientific benefits of yoga
Different terms of yoga such as: Ashtanga, Ashtanga Vinyasa, Chakra, Guru, Koshas, Namaste, Niyama, Pranayama, Pratyahara, Samadhi, Satsang, Surya Namaskara, Vinyasa, Vipassana, Sushmana, Prana, Apana, yin yang, Ahimsa, Satya, Asteya, Brahmacharya, Aparighara, Shaucha, Samtosha, Tapas, Svadhyaya, Ishvara Pranidhana
The program will last for three weeks and the first week will focus on asanas. Every day of this first week, will focus on a particular type of asanas. After a break, a swim and lunch, the afternoon sessions will be about practising further and going deeper into what you learned in the morning.
The second week we will practise asanas together in the morning, and in the afternoons, we will focus on yoga philosophy, pranayama, human anatomy and different types of meditations.
Over the second week, participants will become much more capable of controlling their life energy through removing limiting beliefs and by revitalizing their different energy centers.
Attendees can expect to explore new viewpoints on different aspects of their life and as a result, experience more trust, abundance, mental, physical and sentimental balance, greater self-esteem and self-confidence, compassion, non-attachment, and to be more capable in communication at all the different levels.
The third week, you will become more comfortable with teaching as you will practice teaching on your fellow students.
Although every day and week will be different, there will also be similarities throughout the weeks. Every morning participants will meditate together with an experienced meditator, there will plenty of time for swims, breaks, hammock time and massages. There will also be excursions to beaches and places of interest on the island, dinners out and plenty of summer outdoor movie nights – perfect way to chill out after an interesting and fruitful day of training.

The Yoga Teachers
Elias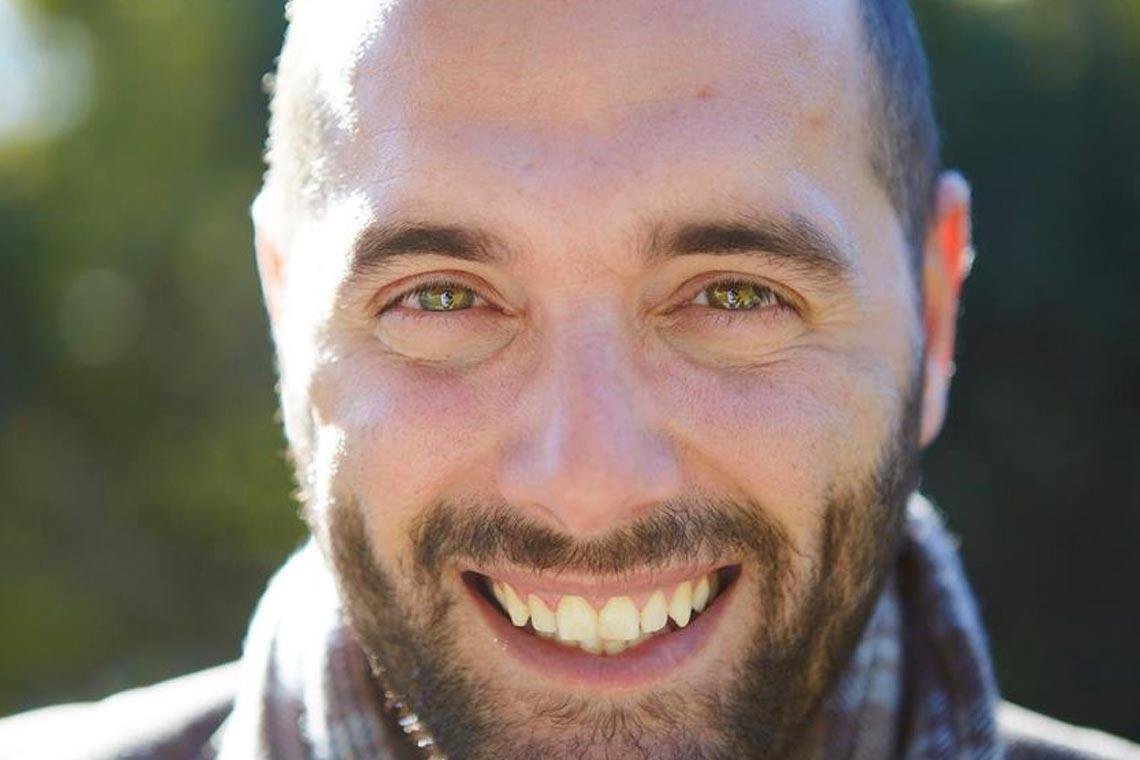 Elias is an experienced Yoga Teacher E-RYT 500, a Life Coach, a Gong Master, a Sound, Aroma, Bach Flower, Energy Healer and Past Life Regression therapist. He was raised at the south suburbs of Athens in an affluent environment close to the sea. From an early age he excelled in school, sports and especially swimming where he competed at national level. At the age of 18 he moved to England to study and achieved BEng, MSc, MPhil and IMechE status in engineering. It was during his college years where he also came in touch with yoga for the first time. Through his professional career he has been integral for the sales, negotiation, execution of significant investments exceeding €100mil. in wind energy and has personally invested in property, tourism and tech projects. In 2009 he has diagnosed with a life threatening disease. When faced with the possibility of transition, he understood that his life wouldn't have meaning on the path he was on and decided that if he was to remain at this level he would be of contribution to others.
Once his health had improved, he pursued a number of personal trainings and a project where he would cross a sea for people involved with cancer together with other athletes using windsurf, kitesurfing, kayaks and small sailing boats. It was also in 2012 he experienced a full kundalini awakening and his first spiritual teacher came to his life, Paramahansa Yogananda and in 2013 he visited India to receive initiation in Kriya yoga.
He continued to practice Karma Yoga and inspire others to be of contribution that led to a number of festivals happening such as the Well Being Festivals, created to spread the use of meditation and yoga in Greece, the Athens Spirit Film Festival and others. He practices Raja, Jnana and Bhakti Yoga, completes the writing of 4 books in relation to life, personal growth, conscious communities and what is possible on the spiritual path. He pursues ever higher states of consciousness and has devoted his life to causes that have positive and meaningful impact to humanity.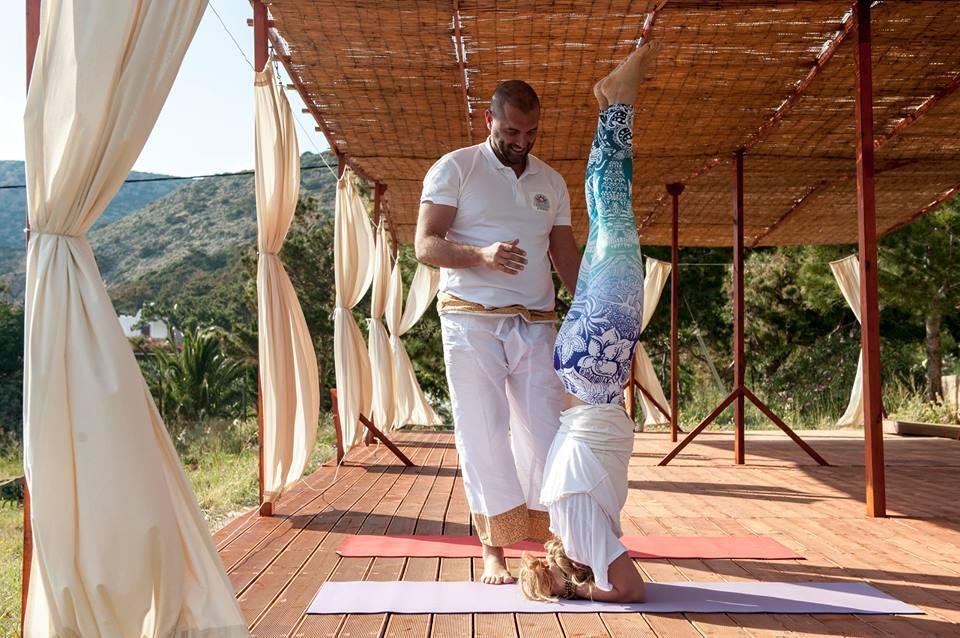 Persefoni Aishwarya
As a child, Persefoni had always been fascinated by her fellow human beings: She felt a strong urge to understand them and to explore human nature so as, through this knowledge, to be able to help people by contributing to their evolution towards a higher ideal. At first, she tried to approach these concepts and goals through her University education, by pursuing
a degree in Philosophy, Pedagogy and Psychology at the University of Athens. However, she soon realized that this academic approach was not enough. Thus, began her journey of inner exploration, her personal odyssey of self-knowledge, which in 2004 led her to meditation.
Through the splendid practice of meditation she was soon led to Yoga. Yoga made her realise that all Powers and Truths of the Universe reside within human beings, within ourselves. This is how after 5 years of intense meditation practice and many travels to India – the mother of Yoga – she got even more in touch with the qualities and philosophy of Yoga. In India she visited many different ashrams and met many yoga teachers who inspired her even more to proceed down the yogic path. She discovered that Yoga is the path which unites the external with the internal, the higher with the lower – which is precisely what the meaning of the word is in Sanskrit: Union.
Her approach to Yoga is s a form of a holistic approach which impacts upon all levels of human beings – the physical/material, the emotional and the intellectual. She offers classes that combine practices from Ηatha Yoga and Satyananda Yoga. Specialized classes include Prenatal and Postnatal Yoga, Kids Yoga, Aromatherapy, Diet, Thibetan bowls, Theta Healing, as well as the very dear to her Bach Herbal remedies. Her practice and classes of Yoga are powered by the insight that it helps human beings discover their roots and the deeper causes of the issues that concern them, at the same time while offering practices and valuable solutions which can help them grow and progress spiritually by bringing them closer to their true nature – happiness.
She has already completed 620 hours of yoga teacher education and her classes have a dynamic character and combine physical with meditative practice. During the classes, we approach yoga with respect and gratitude, appreciating the physical vitality and vigor but also the esoteric knowledge that this practice can gracefully reveal to us.
Kathrine Brustad
Kathrine is the founder of Kathy's Island Retreat and comes from Oslo, Norway. In 2010 she moved from Oslo to Karpathos with her family and she currently lives in the capital town, Pigadia with her three children. In 2012, after practising extensively yogic techniques such as pranayama and meditation, a heightened state of consciousness was reached that changed her life forever and made her go deeper into a path of personal growth.
She is an open-minded, spiritual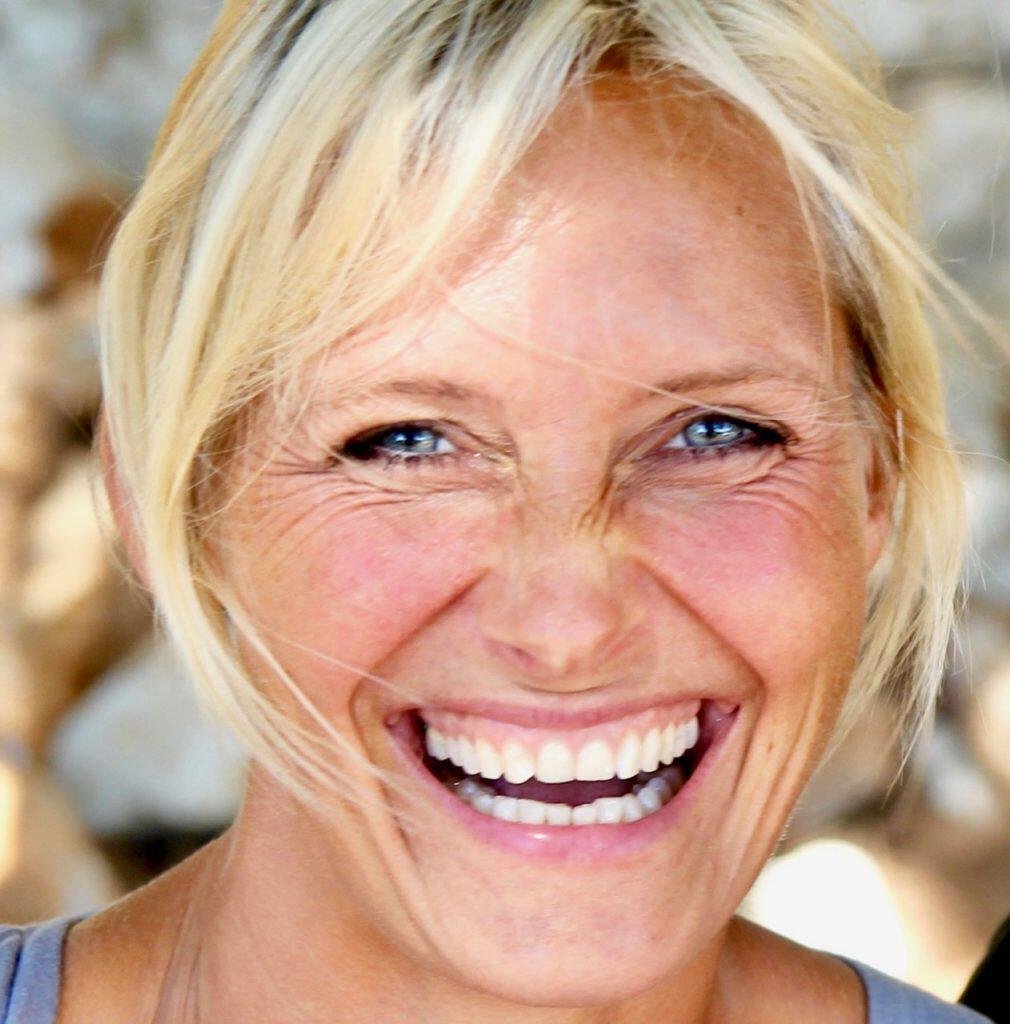 person, always looking to learn new things about the nature of herself. She loves running Kathy's Island Retreat and practicing yoga as these experiences give her the chance to meet new people, learn from others and grow as a human being. Kathrine has completed a total of 500 hours of yoga teacher trainings. As a yoga teacher she is humble and open and loves the challenges teaching offers.
She has a BSc in International Hospitality Management, a Diploma in Energetic Healing Reiki and Bach remedies and she also offers aromatherapy. She practices Hatha and Yin Yoga and has a keen interest in human anatomy. She loves sharing her understanding and knowledge of the human body to bring more awareness to students and practitioners about how everything is connected.
Her classes are focused towards inspiring the students to bring mindfulness and proper breathing into their asana practice in order to enhance it. She wants to bring presence into her classes and into the life of more people and believes that she can achieve that one yoga class at a time. She is a yoga practitioner both on and off the mat as she knows from experience what an amazing impact the practice of yoga and meditation has on herself and the people around her.
Nutrition
The menu will consist of both vegetarian and vegan food and if you would like a raw food diet this can also be accommodated upon request. Should you have any dietary issues, like gluten, milk intolerance or allergies, we will take this into consideration when planning the menu.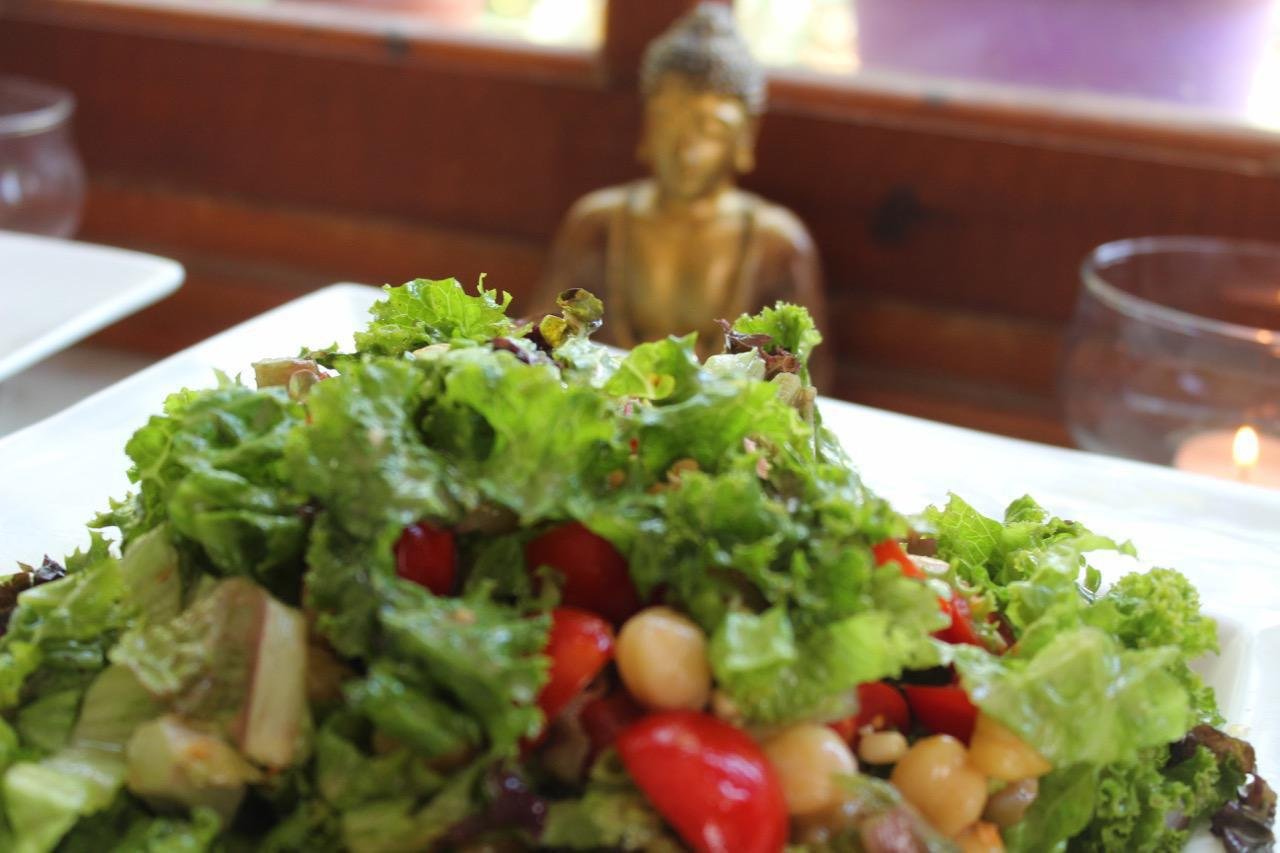 Brunch is served with fresh organic eggs, fresh fruit, and a variation of muesli and nuts and of course Greek yogurt and honey. Lunch and dinner consists of tasty and healthy Greek dishes, many from their own organic vegetable garden. You will also have access to a great variety of fruit and vegetable juices.
We enjoy lunch under the shadow of the trees in the garden and in the evenings, we gather together one the terrace for a cosy candle lit dinner.
Sound healing, Aromatherapy and Bach Remedies
You will participate in several sound healing classes and you will also be trained in how to provide sound healing yourselves. Upon request and depending on availability you can also be trained in Aromatherapy and have an introduction to Bach remedies.
SPA treatments
You can book a massage on site. The massages take place outside, under big beautiful pine trees. An amazing experience!
You can also book private sessions in Aroma Therapy and Healing session. The energy of the sea and the sun are the perfect combination for an unforgettable experience!
For more information about this week, please contact us: http://healingcentregreece.com/contact/